You can contact Frostline Marine Refrigeration at frostlinemarine.com or call 360-303-4912.
Frostline Marine Refrigeration offers installation, service and repair for all brands and types of boat refrigeration, air conditioning and heat pump systems in Bellingham, Blaine, Anacortes, La Conner and Everett. We service all types of marine refrigeration systems produced by Norcold, Nova Kool, Sea Frost, Grunert, Marinair, Cruiseair, Dometic, Isotherm, Frigoboat, Vitrifrigo and of course Sea Freeze. We also provide and install conversion kits with custom evaporators as well.

Has your fridge been running more often than it used to? Not cooling as well as it once did? Not cooling at all? If your boat is located in Whatcom, Skagit or Snohomish county give McLean a call at 360-303-4912 or email frostlinemarine@gmail.com to setup a service call.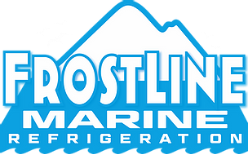 Sea Freeze no longer offers Service and Repair.
McLean, our service technician for the past six years, now owns a company called Frostline Marine Refrigeration, and would be happy to help you with any problems you may have. If Sea Freeze has done work on your boat in the last six years, McLean was the one doing it, so it should be a smooth transition.